Crude Oil continued to fall all week long to close at a new low of 32.89 while Brent oil ended the week at 33.34. Oils turned lower to trade close a 12-year low, eyeing more than a 10% slide for the week. The downbeat mood in the energy market outweighed a solid U.S. nonfarm payrolls report that showed 292,000 jobs were added to the economy in December. Economists polled had expected a reading of 215,000.
On Wednesday, the global oil market was also affected by expectations that the US government will later report a rise in its strategic stockpiles had added to the global supply glut last week, AFP reported.
To add to the market's woes, increased value of the US dollar dented prices, because as dollar rises in value, oil becomes more expensive for buyers using weaker currencies, thereby weighing on demand.
The price of North Sea oil has fallen to just above $32 per barrel, 72% lower than the peak of $115 reached in the summer of 2014. The value of Brent crude was hit for the fourth day in a row, this time by figures from the US showing oil production had risen even higher despite the enormous supply glut.
Turmoil in the Chinese stock markets over fears of lower local economic growth also unnerved oil traders. China is the world's second-largest user of oil and has driven most of the past growth in demand. Oil prices could continue to slide with Saudi sights set on shale
Prof Paul Stevens, an expert in petroleum economics at Chatham House, the foreign policy think-tank, said the value of oil may need to fall to $20 before some producers cut back and reduce supply.
"Storage is pretty much full and people are already talking about buying tankers as floating storage," he told the BBC. "But if supply continues to outstrip demand, then the only one thing you can do with the oil is sell it."
The current slump in crude prices is a boost to British motorists as it led to a fall in the cost of petrol. Some gas contracts are also tied to oil prices so there is also downward pressure on the cost of gas used for heating and generating electricity.
FxEmpire provides in-depth analysis for each currency and commodity we review. Fundamental analysis is provided in three components. We provide a detailed monthly analysis and forecast at the beginning of each month. Then we provide more recent analysis and information in our weekly reports and we provide daily updates and outlooks.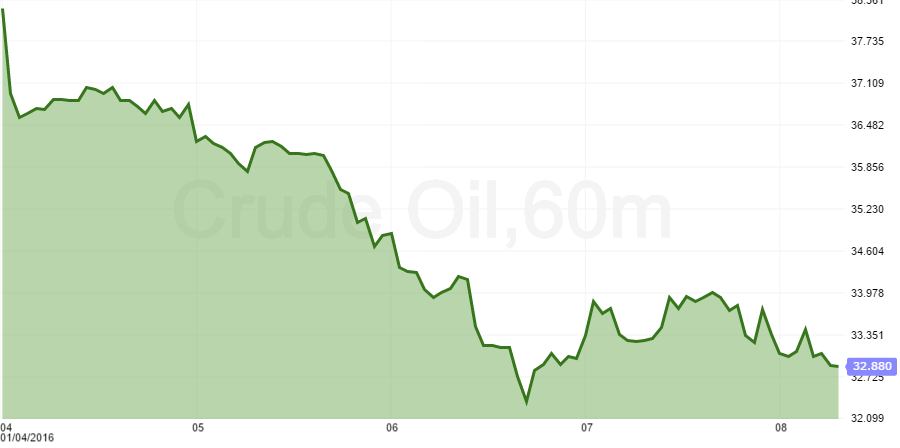 WEEKLY
This Week in Petroleum
Release Schedule: Wednesday @ 1:00 p.m. EST (schedule)
Gasoline and Diesel Fuel Update
Release Schedule: Monday between 4:00 and 5:00 p.m. EST (schedule)
Weekly Petroleum Status Report
Release Schedule: The wpsrsummary.pdf, overview.pdf, and Tables 1-14 in CSV and XLS formats, are released to the Web site after 10:30 a.m. (Eastern Time) on Wednesday.
Major Economic Events for the week:
Time

Cur.

Imp.

Event

Actual

Forecast

Previous

Tuesday, January 12, 2016

GBP

Manufacturing Production

0.1%

-0.4%

Wednesday, January 13, 2016

CNY

Trade Balance (Dec)

53.00B

54.10B

Thursday, January 14, 2016

AUD

Employment Change (Dec)

-12.5K

71.4K

GBP

Interest Rate Decision (Jan)

0.50%

0.50%

Friday, January 15, 2016

USD

Core Retail Sales (MoM) (Dec)

0.2%

0.4%

USD

PPI (MoM) (Dec)

-0.1%

0.3%

USD

Retail Sales (MoM) (Dec)

0.1%

0.2%
Upcoming Government Bond Auctions
Date Time Country
Jan 12 11:00 Austria Holds bond auction
Jan 12 11:00 Netherlands Euro 1-1.5bn 2.5% 2033 DSL
Jan 12 11:30 UK 0.125% 2046 Inflation-linked Gilt
Jan 12 n/a UK Announces details of Gilt auction on Jan 20
Jan 12 19:00 US Holds 3-year note auction
Jan 13 11:05 Norway Holds bond auction
Jan 13 11:10 Italy Holds BTP
Jan 13 11:30 Germany Euro 5bn Feb 2026 Bund
Jan 13 19:00 US Holds 10-year note auction
Jan 14 10:30 Spain Auctions Bonos/Obligaciones
Jan 14 19:00 US Holds 30-year bond auction
Jan 14 N/A US Announces details of 10-yr TIPS auction on Jan 21
Jan 18 11:00 Belgium Holds OLO auction