The EUR/USD declined 62 points moving back to its trading range before the Chinese craziness this week. Traders today are preparing for the US jobs data which will is expected to cause market volatility. The euro is trading at 1.0869 as the greenback gained 52 points to trade at 98.81. German industrial production took a major fall today printing at -0.3% against a forecast of 0.5%. German trade balance numbers were a bit weaker than expected. In a sign of how much Germany benefits from, as well as contributes to, Eurozone growth, exports to other EU countries grew by 9.5 per cent from the same month of 2014, while imports from them swelled by 6.3 per cent.
Growth in German imports outstripped exports in November and industrial output unexpectedly fell, suggesting Europe's largest economy may have slowed at the end of 2015.
The data highlighted the shift in Germany's economy away from a reliance on exports and towards more consumer-driven growth. "Industrial production is floppy - there currently is no power in the sector," said Backhaus Lampe, chief economist Alexander Krueger, adding that slowing global growth was the main reason for the sluggish performance.
Forex dealers and analysts said even assuming solid U.S. jobs data for December later today — that often helps drive the dollar higher because it raises expectations for Federal Reserve tightening — the dollar may find upward momentum difficult. But the U.S. currency looks set to show itself vulnerable to downward pressure if the jobs data is weak.
FxEmpire provides in-depth analysis for each asset we review. Fundamental analysis is provided in three components. We provide a detailed monthly analysis and forecast at the beginning of each month. Then we provide more up to the data analysis and information in our weekly reports, which covers the current week and are published by Sunday before the new week begins. Daily we share any new events, forecasts or analysis that affect the current day. To achieve a full accurate understanding it is important that you study all of our data and analysis as a whole.
Today's economic releases:
Cur.

Event

Actual

Forecast

Previous

AUD

Retail Sales (MoM) (Nov)

0.4%

0.4%

0.6%

EUR

German Industrial Production (MoM)

-0.3%

0.5%

0.5%

EUR

German Trade Balance (Nov)

19.7B

20.0B

20.5B

GBP

Trade Balance (Nov)

-10.64B

-10.50B

-11.20B

GBP

Trade Balance Non-EU (Nov)

-2.45B

-3.00B

-3.55B

USD

Average Hourly Earnings (MoM)

0.2%

0.2%

USD

Nonfarm Payrolls (Dec)

200K

211K

USD

Unemployment Rate (Dec)

5.0%

5.0%

CAD

Building Permits (MoM) (Nov)

-3.0%

9.1%

CAD

Employment Change (Dec)

10.0K

-35.7K

CAD

Unemployment Rate (Dec)

7.1%

7.1%

USD

Baker Hughes U.S. Rig Count

536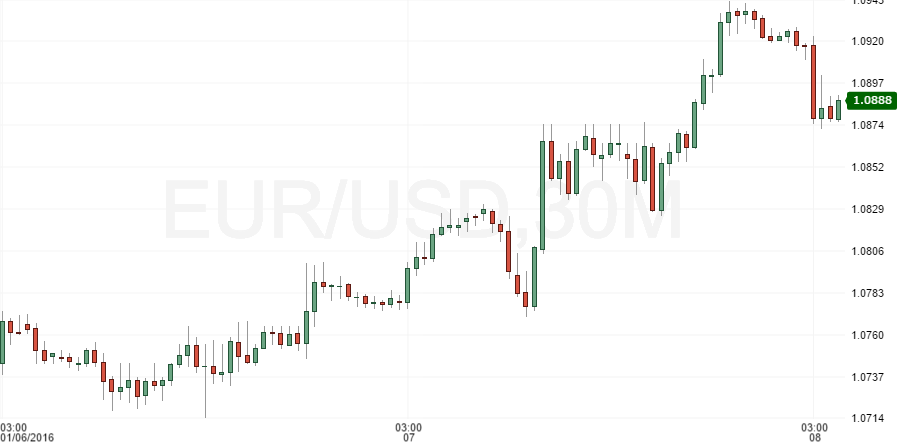 Upcoming Economic Events that you should be monitoring:
Monday, January 11, 2016
Cur.

Event

Actual

Forecast

Previous

NZD

Building Consents (MoM) (Nov)

5.1%

CAD

Housing Starts (Dec)

211.9K
Government Bond Auctions
Date Time and Country
Jan 12 11:00 Austria Holds bond auction
Jan 12 11:00 Netherlands Euro 1-1.5bn 2.5% 2033 DSL
Jan 12 11:30 UK 0.125% 2046 Inflation-linked Gilt
Jan 12 n/a UK Announces details of Gilt auction on Jan 20
Jan 12 19:00 US Holds 3-year note auction
Jan 13 11:05 Norway Holds bond auction
Jan 13 11:10 Italy Holds BTP
Jan 13 11:30 Germany Euro 5bn Feb 2026 Bund
Jan 13 19:00 US Holds 10-year note auction
Jan 14 10:30 Spain Auctions Bonos/Obligaciones
Jan 14 19:00 US Holds 30-year bond auction
Jan 14 N/A US Announces details of 10-yr TIPS auction on Jan 21
Jan 18 11:00 Belgium Holds OLO auction